About The Oral Plastic Surgeon
Transformational Periodontics & Implantology for Allen & McKinney, TX
---
The health and appearance of your smile are absolutely essential to you living your best life and accomplishing your goals, and no one understands this better than The Oral Plastic Surgeon, Dr. Fatima Robertson. As a member of the Center of Endodontics, Periodontics, and Implantology, she has the skills, training, and artistic eye to ensure that your smile always makes the right first impression. Whether you need missing teeth replaced, help with a "gummy" smile, or gum disease treatment to restore your smile due to periodontal disease, Dr. Fatima Robertson DDS, PA is the only person you need to see to get the world-class care you deserve. For more information about our surgical and non-surgical periodontics procedures such as the pinhole technique we use, we welcome you to give us a call or browse our services page. We're proud to provide comprehensive cosmetic dentistry procedures and gum disease treatments to patients throughout Allen and McKinney, TX.
Meet Fatima Robertson, DDS, PA
From the very beginning of her career, Dr. Fatima Robertson wanted to be a problem solver. Whether a person had missing teeth, advanced periodontal disease, or anything that made them feel self-conscious about their smile, she wanted to be the person who provided answers. Through diligence, dedication, and extensive study, she now has those answers. As The Oral Plastic Surgeon for patients in the Allen and McKinney, TX areas, she's able to take your oral healthcare to the next level with top-quality gum disease treatments, dental implants, cosmetic dentistry services, and more, not only ensuring your smile's strength and vigor but its everlasting beauty as well.
As one half of the Center of Endodontics, Periodontics, and Implantology, Dr. Robertson received her bachelor's degree and dental degree simultaneously from the University of Missouri-Kansas City as part of an accelerated degree program. She then worked as a general dentist for three years before returning to the University of Missouri for an advanced education program in periodontics. According to Dr. Robertson, her experience in general dentistry greatly enhanced her ability to serve her patients as a periodontist.
"Having a background in general dentistry allows me to broaden my perspective a bit," she says. "A comprehensive approach to oral health care yields a properly phased treatment plan for the patient."
Patients of Dr. Robertson can rest assured that they are always getting comprehensive care, as she is committed to making certain that her patients are aware of any potential problems they may have, be it a crack in a tooth or a suspicious spot on the tongue.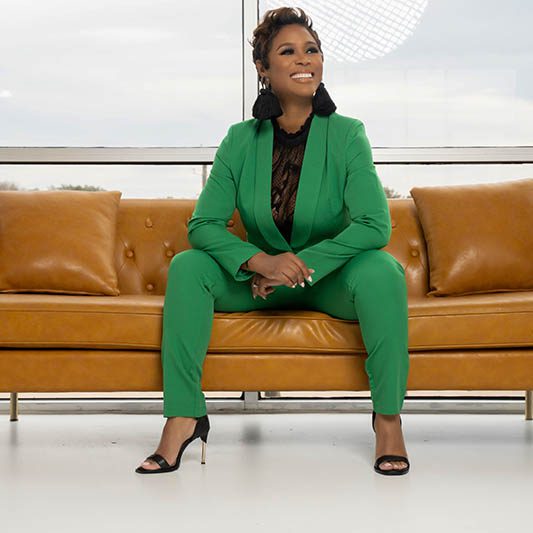 The consummate professional, she is board-certified and a member of the International Congress of Oral Implantologists, American Association of Periodontology, American Board of Periodontology, American Dental Association, Texas Dental Association, and the North Texas Dental Society. Always striving for excellence, Dr. Robertson has also completed numerous hours of continuing education in aesthetic periodontal surgery and implant dentistry.
In addition to providing treatment for gum disease, much of Dr. Robertson's surgical practice is cosmetic-focused, including procedures such as gum lifts, gum grafts to treat recession, and dental implants.
Robertson inherited an eye for design and her skilled ability to use her hands from both her mother, who could design and sew just about anything, and her father, a skilled carpenter. As an adult, she applies these talents, along with her love for science, to periodontics, and she loves that her chosen career allows her to combine both art and science. However, perhaps the most rewarding aspect of her job is simply helping people. When someone has lost their teeth in a car accident or is self-conscious about a "gummy" smile, Dr. Robertson loves the joy that comes from restoring their smiles and self-esteem.
Our office is designed to accomplish two primary goals: one, to ensure that our patients feel calm and relaxed as soon as they come to see us, and two, to enable our team to provide world-class care. You'll quickly see that we've accomplished the first when you walk through our doors and receive a warm greeting from Dr. Robertson's mother at the front desk. And, once you're escorted to the back, you'll also see that we have some of the finest, most advanced dental technology available today—truly the best of everything! When these elements come together with our all-star team, you get a dental experience unlike any other. Before you can visit us, please take a look around our office with the brief tour below.
Actively Involved
in the Dallas-Fort Worth Metroplex
Dr. Fatima Robertson and our team make a special effort to get out into our community so we can make it a better place for everyone to live, work, and raise a family. As much great work as we do in our office, there's always more to be done outside of it! We are an ardent supporter of the Dallas Dress for Success program which is dedicated to helping women re-enter the workforce with the resources and confidence they need. Every year, we collect cash, new handbags, pocketbooks, and lightly worn jewelry to donate to these women so they can get a strong start on the next phase of their life and career.
Dr. Robertson also runs her own study club called LeadHerShip where she and other female dental professionals get together and discuss how to balance work, and family, and come together as a community to provide better overall care for the Metroplex.