SURGICAL DENTAL TREATMENTS 
FOR THE ALLEN & MCKINNEY, TX AREAS
---
When periodontal/gum disease has damaged the soft tissues of the mouth and the teeth, sometimes the only way a patient can regain their healthy, beautiful smile is with a surgical procedure. Fortunately, at our practice, we have The Oral Plastic Surgeon. Thanks to Dr. Robertson's years of experience, she's able to provide a wide variety of restorative procedures that can combat gum recession, restore missing teeth, and dramatically improve the appearance of your smile. Her gentle touch and skilled hands will make sure your entire experience, both during and after a procedure, will be comfortable, relaxed, and yield fantastic results.
Placement of Dental Implants for Crown & Bridges
A dental implant is actually a small titanium post that is placed directly into the jawbone in order to create a brand new tooth root. This can then be attached to a variety of prosthetics, including crowns and bridges, to replace one or multiple missing teeth.
For the placement procedure, you'll be thoroughly numbed with local anesthesia, and then Dr. Robertson will make a small incision in your gums to expose your jawbone. She'll slowly place the implant post(s) within the bone, and then she'll suture the gums closed.
After this, you'll be given 3-6 months to heal, during which time the implants will actually bond directly to the surrounding bone through a process called osseointegration. Once you are completely healed, you'll return to your general dentist to have your new teeth placed.
Placement of Dental Implants for Dentures
Dental implants can also be used to support a partial or full denture that is much more stable and durable than a traditional removable prosthetic. The placement procedure is very similar to that of dental crowns and bridges, except you'll receive four to eight implants at the same time depending on your needs. They will be topped with either ball-shaped joints or a metal bar that the denture will simply snap onto. It will not be removable (except by your dentist), and it will give you a more natural-looking and feeling smile you'll be able to enjoy for many years.
Teeth-in-a-Day
The name of this service says it all. If you are missing multiple teeth, even an entire row, we can help you restore them in a single day. And, we won't just give you a traditional denture, but a strong and lifelike implant-retained denture. Dr. Robertson and our team are able to place and restore dental implants in a single appointment so you can reclaim your smile and get back to your life in less time than ever.
Chao Pinhole Technique
Fast & Painless Gum Recession Treatment
Many patients who come to see us have developed gum recession, in which the soft tissues of the mouth have actually started to pull away from the teeth. This cannot only affect the overall look of the smile, but it also makes the teeth more vulnerable to decay, because the sensitive roots are exposed to bacteria and plaque. In the past, gum surgery was the only way to fix this problem, but fortunately, Dr. Fatima Robertson is now able to offer a much gentler, yet just as effective solution. The Chao Pinhole Technique allows her to quickly and comfortably treat gum recession in a single appointment without surgery, saving a patient the time and discomfort usually associated with a traditional gum graft.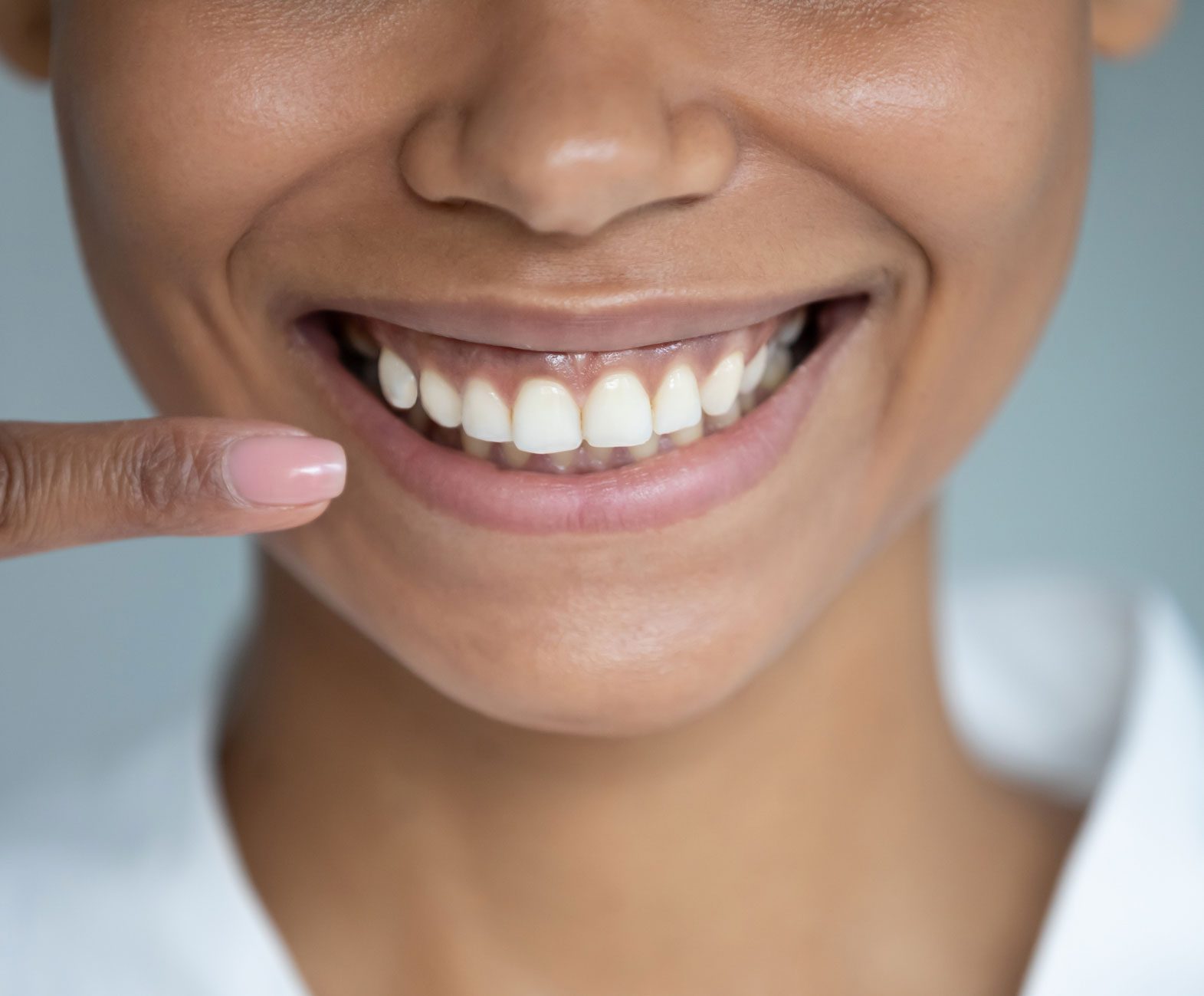 Pinhole Surgical Technique
Traditionally, the only way to treat a patient with gum recession was to perform a surgical gum graft, but now, Dr. Robertson is able to help patients achieve fantastic results without using scalpels or sutures. With the Pinhole Surgical Technique, she can gently massage and reposition receded gums back into their original position using only a tiny hole placed into the tissue, improving both the health and appearance of the smile. Because this approach is non-surgical, it's easy for a patient to remain comfortable while in the chair, and recovery is nice and fast as well. Most patients experience little to no post-treatment symptoms like swelling, bleeding, or tenderness, and results can be seen almost instantly.
How Does the Chao Pinhole Technique Work?
Whether someone's gum recession is due to periodontal disease, physical trauma, or genetics, the Chao Pinhole Technique is consistently able to deliver fantastic results. With a traditional gum graft, a small piece of tissue is harvested from a patient's mouth and used to replace the receded gums, which isn't exactly a pleasant experience. Using the Chao Pinhole Technique, however, Dr. Robertson is able to achieve the same quality results without a patient experiencing swelling, bleeding, or excessive tenderness afterward. The procedure itself is quite simple:
• A small hole, literally the size of a pin, is placed into the gums near where they have receded. A patient barely feels this as it is done.
• Using a special dental instrument, Dr. Robertson gradually massages, stretches, and repositions the gums into a more desirable/healthy position over the teeth.
• And that's it! The gums are not stitched into place like with a gum graft, and a patient will be able to see results the same day as treatment. The hole itself will quickly heal, perhaps even overnight.
The Benefits of the Chao Pinhole Technique
Compared to traditional gum graft surgery, the Chao Pinhole Technique offers several advantages:
• Because the procedure is so non-invasive, a patient experiences virtually no discomfort while in the chair. Often, anesthetic isn't even necessary.
• Healing time is minimal, and a patient will have practically no post-treatment symptoms like pain, swelling, and bleeding.
• Results can be seen in the chair on the same day as treatment, and a few days afterward, it won't look like anything was ever wrong with the gums in the first place!
Is the Chao Pinhole Technique Right For You?
If you have gum recession or an uneven gum line, the Chao Pinhole Technique might be exactly what you need to achieve a healthy, attractive, and confidence-boosting smile. You can learn a little more about the procedure here, and if you have questions and would like to speak to our team, please give us a call any time.
Bone Grafting
Your First Step to a New Smile
For a patient hoping to get dental implants, one of the basic requirements is that they have an adequate amount of healthy jawbone to support them. A patient who has dealt with tooth loss for a long time may have a jawbone that is simply too thin and brittle to safely support implants due to bone loss, which naturally occurs after a tooth has gone missing. Fortunately, with a bone graft, Dr. Robertson can build up the jawbone, increasing its height and thickness so a patient can finally receive implants.
In order for a patient to get dental implants, they need an adequate amount of healthy jawbone to support the posts. Unfortunately, one of the common side effects of tooth loss is bone loss in the jaw, which can cause it to become too thin or brittle to securely hold implants. However, this doesn't mean a patient can't receive implant care. Dr. Fatima Robertson can help build up and strengthen the jawbone using a procedure known as bone grafting.
For a bone graft, Dr. Robertson will use a small bit of harvested bone from your own body (either from your hip or a rib), donated bone, or a lab-made bone grafting material to strengthen and thicken your jawbone. After making a small incision in your gums, she'll place the material right where she intends to locate the implants. This will stimulate new bone growth in the area, and after a few weeks of healing, you'll safely be able to receive dental implants.
A bone graft could be your first step to reclaiming your complete smile. Do you need one? Learn more or schedule a consultation, contact us today.
Do I Need a Sinus Augmentation
in Allen?
When a patient wants to replace missing teeth towards the back of the upper jaw, sometimes a sinus augmentation is a necessary first step. This will build up and strengthen a thin or weak jawbone in order to make it thick enough to support implants. It will also ensure that a dental implant will not pierce the sensitive membrane that surrounds the sinuses located right above the jaw.
A sinus augmentation is a prerequisite procedure a patient may need to undergo before dental implant placement can be safely performed if they are looking to replace missing teeth towards the back of the upper jaw. This part of the jaw is right underneath the sinus cavities, which aren't just empty spaces in your skull, but an area surrounded by a thin membrane. A sinus augmentation allows Dr. Fatima Robertson to build up this portion of the jaw so dental implants can be placed without piercing the sensitive membrane.
A sinus augmentation can usually be completed in just one appointment, and you'll be completely numbed using local anesthesia. Dr. Robertson will make a small incision in the gums to reach the jawbone, and then she'll place a bone grafting material to stimulate new growth in the area. She may also need to gently push the sinus membrane up to create enough room for the jawbone to grow. After a few weeks of healing, your jaw will be thick enough to hold implants.
To learn more about a sinus augmentation and how it could benefit you, please contact us today.
Using just a few small incisions, Dr. Robertson will be able to access the bone supporting a tooth and gently reshape it to make the crown longer. This can not only drastically change the look of a person's smile, but it can also be an essential step for a patient hoping to receive a dental crown or porcelain veneer.
Crown lengthening can typically be completed over the course of a single appointment while using a local anesthetic. For this, Dr. Robertson will make a few small incisions in the gums around a tooth to expose the bone, and then she'll gently reshape the area to reveal more of the crown. From there, she'll close the gums, and you should be completely healed within a week or less.
If you can't figure out why one of your teeth is hurting, or if you'd simply like to get rid of your "gummy" smile, crown lengthening could be the answer you need. To learn more about it and how it can help, contact us today.
Dental Pocket Reduction Surgery
Gum disease most often tends to develop in the small spaces located between the gums and teeth called periodontal pockets. As gum disease worsens, these pockets can fill with bacteria, grow, and make a person much more likely to redevelop the infection even after it has been treated. To prevent this, Dr. Roberson can perform this procedure to greatly reduce the size of these pockets. This will not only prevent gum disease in the future, but it will also help restore the original look of your smile.